Comic Book Creators is offered to campers ages 10-13 during Session 2: July 8 – July 19
Camp Season Program Description
Comic books, graphic novels and even comic strips are all great storytelling methods that allow artists and writers to tell exciting stories in a visual way.  If you have an interest in drawing or writing comics then this will be an exciting opportunity to learn more about how these books are created, and a chance to make your own!  Are you a comic reader? Come try your hand at scripting, inventing characters, learning how to compose panels and pages, how to ink and color pages, and some of the digital techniques that brought your favorite books to life.  Campers will have the chance to work with traditional and digital tools and materials as they work towards making their own characters and stories, and ultimately work towards making their own issue of an original comic. Some of the exercises may include drawing thumbnail and model sheets, learning different drawing perspectives, creating dialogue, working with exciting figure poses, developing a personal style of comic drawing, introduction to storytelling methods, layout and inking of comic pages, working with watercolor, and some basic Photoshop for digital drawing and coloring.  From Manga style to classic heroic figure drawing, all styles and levels of experience are welcome!
Daily Schedule: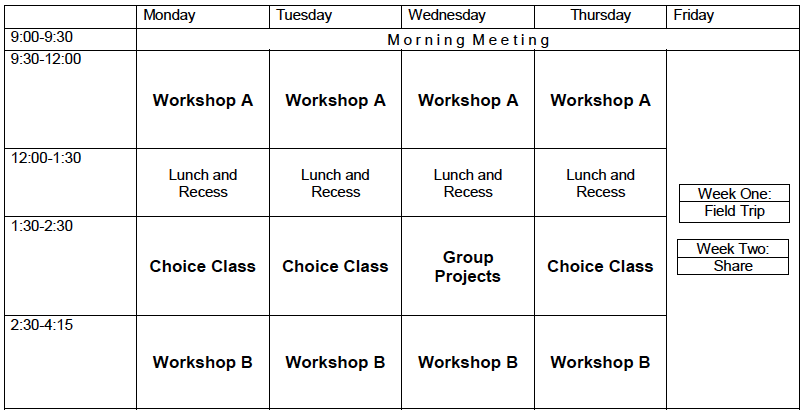 Time & Location
Comic Book Creators Specialty camp takes place at our Sixth Avenue campus (272 Sixth Avenue).  It meets Monday-Friday 9:00am-4:00pm.  A hot lunch is provided Monday-Thursday; we ask that campers bring a bag lunch on Fridays.
Field Trip and Friday Share Schedule:
Comic Book Creators will make chaperoned off-site trips as dictated by the needs of their individual and group projects.
Additionally, on the first Friday of the session, students will join our Tens-Twelves & other Specialty Camps on a Field Trip via air-conditioned coach buses.
Field Trip Schedule 2019
Session Two:
Friday, July 12th: Improv-4-Kids
Friday, July 19th: End of Session Grownup share
Teacher Bio
Jeremiah Demster is the middle school art teacher for the 5th and 6th grade at LREI. He is also the coach of the middle school Robotics team. He has worked LREI and Summers at LREI since 2011. Previous to this position Jeremiah taught a combined age 12-14 Montessori middle program with a heavy emphasis on marine biology and diving on the island of Maui. He has been teaching since 2006. Jeremiah has also been a part of AmeriCorps in outdoor education instruction, and an adventure counselor for the YMCA in New Hampshire, specializing in outdoor education and ropes instruction.  Jeremiah holds a MS in Teaching Methodology from the University of New England, and a BFA in Fine Arts from Endicott College, as well as a Montessori teaching credential from the Houston Montessori Center.