Tens-Twelves Program Description
The camp day for the Tens-Twelves is 9:00am-4:00pm Monday through Friday.
Children in our Tens-twelves program are divided into Homegroups. Children in the Tens-Twelves are going into Fifth, Sixth and Seventh grade next fall.
Each Tens-Twelves Homegroup is a consistent place, team of teachers, and group of children that meet over the course of camp. When registering, parents choose a Homegroup with a specific "Focus" that best suits their child's interests. Focuses range from movement, to table-top games, to crafting. While all Homegroups will experience a variety of activities throughout each session, the focus represents a period of time each day when campers engage in activities that align with the Homegroup focus.
The camp program for children in the Tens-Twelves includes Homegroup Time, Choice Classes, Outdoor Play, and Theme Wednesdays.
Homegroup Time
Homegroup room doors open at 8:50am. Activities are set up throughout the room in order to engage children in the beginning of the camp day. The camp day starts with a Morning Meeting shortly after 9:00am. Since campers come from many different schools, these meetings are focused on activities that help them get to know one another and to build a sense of community.  Meeting time may include games, a chance to share thoughts and ideas, and a discussion of the camp day.  
Homegroups enjoy a healthy lunch together, Monday through Friday.  Following lunch, physical activities take place at Houston Ballfield, Downing Street Park, in our Physical and Performing Arts Space, or in Homegroup rooms.
Both before and after lunch, Homegroup TIme is allotted for campers to spend time creating, playing, and experiencing activities that are unique to one's Homegroup Focus.
Choice Classes
Campers select a Choice Class Bundle featuring two classes that meet for an hour each on Monday, Tuesday, Thursday and Friday for the two-week session. These classes, taught by Specialists and Head Counselors, are open to all children in Tens-Twelves Homegroups.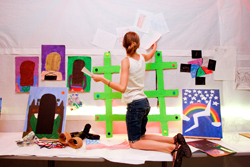 Camp-Wide Wednesday Activities
Every Wednesday, camp adopts a specific theme. On one Theme Wednesday per session, campers will find themselves transported into a whole new environment. Theme Wednesdays provide Homegroups a great opportunity to work together and use their "Focuses" to share and participate in a larger shared experience. Past theme favorites have included Flying Machines, Super Giant Market, and Camp After Dark.