2023 Summers Basketball Clinics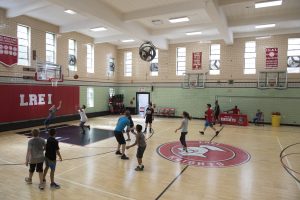 Stay tuned to this page for information on the 2024 Basketball Clinic
2023 Basketball Clinic runs Tuesday, June 20th through Friday, June 23rd *
(*no clinic on June 19th)
9:00 am – 2:00 pm
$500/full week registration -or- $125/day
*Program will be held at the Thompson Street Athletic Center {145 Thompson Street}
**Campers are asked to bring bag lunches each day that do not contain nut or seed products and do not include glass containers.
Summers one-week Basketball Clinics are designed to help players, ages 8 to 13 develop their basketball skills and compete against each other in games.
Training will include:
Shooting
Passing
Dribbling and Ball Handling
Rebounding
Hand/Eye Coordination
Defense and Agility
Athletic Stamina
Footwork
Teamwork
Strategy
Basketball Clinics Registration Form
Summers Sports Clinics – Refund Policy
If you withdraw from a Summers Sports Clinic for any reason, you will receive a 90% refund of your fees paid until June 1, 2023. No refunds are issued after June 1, 2023.
Any refund resulting in failure to meet the terms of a discount will result in loss of that discount. If a withdraw means that your camper will no longer be here for the full week of the clinic session, you will lose the application of the full-week discount pricing, and remaining days will be charged at the daily rate.
Camp fees will not be refunded or prorated for any missed days due to illness, injury or unforeseen schedule changes. Registrations are non-transferable.