Eights / Nines Program Description
Children in our Eights and Nines program are divided into Homegroups. Children in the Eights are going into third grade in the fall and Nines into fourth grade in the fall. 

The camp day for 8/9's is 9:00am-4:00pm Monday through Friday. Registration is by two-week sessions.  The camp program for children in the Eights/Nines includes organized activities and outdoor time with their Homegroups, Choice Classes which they select according to their interests, and weekly field trips.
Our Musical Theater Workshop ,Specialty Camp is offered to our Nines campers.  Visit the Specialty Camp section of this website for more details.
When registering, parents choose a Homegroup for their child. A Homegroup is a consistent place, team of teachers, and group of children that meet over the course of camp. For example, we may have two or three Eights Homegroups ("Eights A" and "Eights B" etc…).
Homegroup Time
Homegroup room doors open at 8:50am. Activities are set up throughout the room in order to engage children in the beginning of the camp day. The camp day starts with a Morning Meeting shortly after 9:00am. Since campers come from many different schools, Morning and Afternoon Meetings are focused on activities that help them get to know one another and to build a sense of community.  Meeting time may include games, a chance to share thoughts and ideas, and a discussion of the camp day.  Other activities with the Homegroup include "Think Tank," an opportunity for campers to generate group projects, In/Outdoor Games and Arts and Crafts.
A healthy, tasty lunch is served in the cafeteria Monday through Thursday.  Following lunch, recess takes place at Houston Ballfield, Downing Street Park, in our Physical and Performing Arts Space, or in Homegroup rooms.
Choice Classes
Campers select three choice classes which meet for an hour each on Monday, Tuesday, and Thursday for the course of a two-week session (indicated on the schedule as Choice Class A, Choice Class B, and Choice Class C).  These classes are open to all children in Eights through Twelves Homegroups.  Classes are taught by Specialists, Heads, and select Associate Counselors.
Eights / Nines: 2019 Choice Classes examples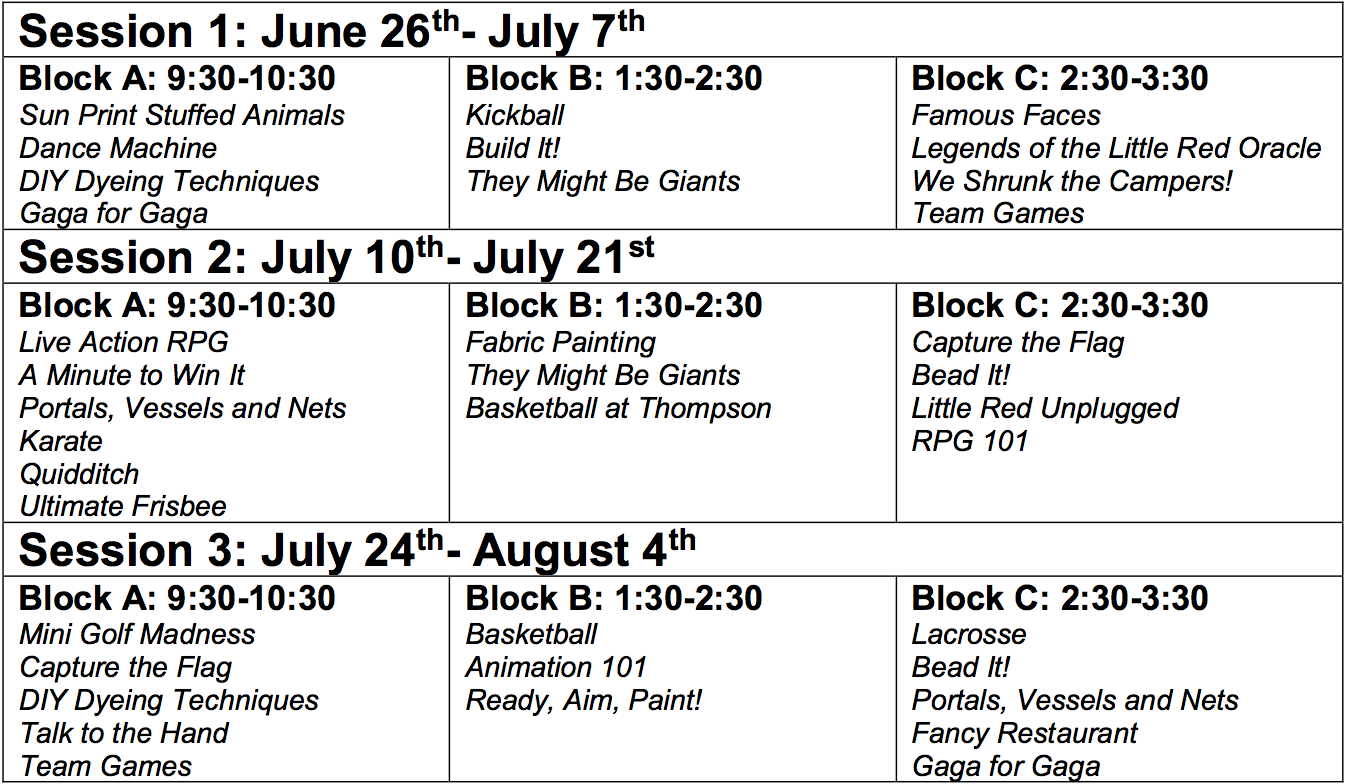 Camp-Wide Wednesday Activities
Campers of all ages gather on Wednesday for a camp-wide activity such as a game or song, followed by mixed-age activities.  Campers may choose to participate in activities such as capture the flag, a clowning workshop, a sculpture project, or making a camp-wide disco.  This is a fun opportunity for children in different Homegroups to get to know each other, as well as for siblings to spend time together.  The second Wednesday of each session is a camp theme day such as "Block Party" or "Intergalactic Cafe" .  In addition to camp-wide activities related to the theme, each Homegroup decides how they will participate in the theme.  Wednesday afternoons are set aside for extended Homegroup projects, collaborations between groups, and activities related to the theme day.
Field Trips
On Fridays, the Eights through Twelves travel by air-conditioned chartered bus to locations such as the Bronx Zoo, LAVA Acrobatics and Trapeze Workshop, Governor's Island, and Liberty Science Center.