Session 1: June 26-July 7
Robotics Lab
Robotics lab is a chance for young roboticists and engineers to explore the potential of LEGO NXT robotics systems to physically realize their ideas. Days consist of short lessons in alternating large and small groups, as well as individual instruction during open blocks of work time.  Campers will be given various challenges to solve, or opt to come up with their own tasks and challenges to work on.   This session is open to campers of all ability levels, whether experienced or new to Robotics, ages 10-13.

Session 2: July 10-July 21
Battle Bots
Through the use of tournament-style "battles" young engineers and roboticists will use critical thinking skills, strategy, innovation, and engineering to create robots that can survive the arena.  Students will use LEGO NXT systems and lego pieces as the basis for their machines.  Days consist of short lessons in large and small groups, as well as individual instruction, and there will be daily and weekly challenges and battles to keep campers engaged.  It's recommended that campers have some experience with robotics, but anyone excited about building and participating in battle bots is welcome, ages 10-13.
Please note Robotics is not offered Session 3

 Robotics students also take a Daily Elective Class. The class options are a rotating selection of activities, allowing campers to make decisions based on their desires each day.  There is no need to register for Daily Elective Classes.  
Times and Location
Robotics meets Monday-Friday 9:00am-4:15pm.  Robotics takes place in the state-of-the-art science labs housed in the newly-added science wing at the Summers at LREI 40 Charlton Street campus.
Teacher Bio
Jeremiah Demster is the middle school science teacher for the 5th and 6th grade at LREI. He is also the coach of the middle school Robotics team. He has been in this post since the 2011-2012 school year, and he has worked for Summers at LREI since 2011. Previous to this position Jeremiah taught a combined age 12-14 Montessori middle program with a heavy emphasis on marine biology and diving on the island of Maui. He has been teaching since 2006. Jeremiah has also been a part of AmeriCorps in outdoor education instruction, and an adventure counselor for the YMCA in New Hampshire, specializing in outdoor education and ropes instruction.  Jeremiah holds a MS in Teaching Methodology from the University of New England, and a BFA in Fine Arts from Endicott College, as well as a Montessori teaching credential from the Houston Montessori Center.
2017 Daily Schedule: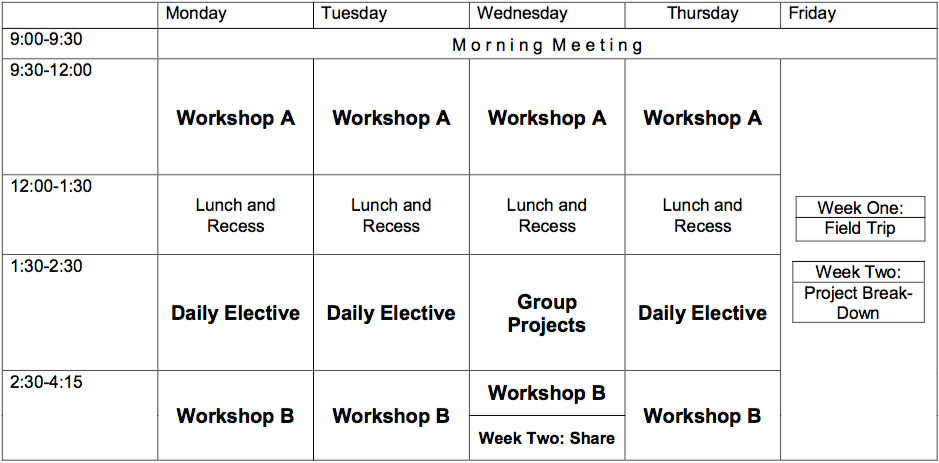 Field Trips
Robotics students may occasionally make chaperoned off-site trips as dictated by the needs of their individual and group projects.
Additionally, on the first Friday of each session, students will join Upper Camp on a Field Trip via air-conditioned coach buses.
Final Share
A Robotics share open to family and friends will take place on the second Wednesday afternoon of each session at the Charlton Street campus.  The final Friday of each session is devoted to open Robotic exploration and disassembling robotic creations, in addition to a comprehensive final robotics wrap-up group chat.  Campers will have the opportunity to decide the content of their share with support from instructors.
2017 Share and Field Trip Schedule:
Session One:
June 30th: Hudson Play
July 5th: Share at Camp
July 7th: Project Clean-Up at Camp
Session Two:
July 14th: Aviator Sports
July 19th: Share at Camp
July 21st: Project Break-Down at Camp
Session Three:
July 28th: Victorian Gardens
August 2nd: Block Party in the morning, Share at Camp in the afternoon
August 4th: Project Clean-Up at Camp