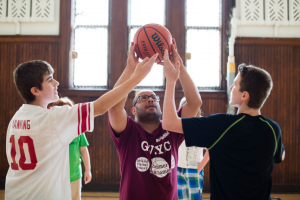 Basketball Intensive is offered for campers aged 10-13 for all three sessions.
Preseason Basketball Clinic: June 17 – June 21
Session 1:  June 24 – July 3rd  (No camp on July 4th or 5th)
Session 2:  July 8 – July 19
Session 3:  July 22 – August 2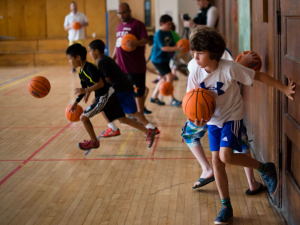 Preseason Basketball Clinic Program Description
This season Summers at LREI is offering a one-week Preseason Basketball Clinic! This program helps players, ages 10 to 13 to develop their basketball skills, and compete against each other in games.  The program will run June 17 – June 21, the week before the camp season opens.
The Preseason Basketball Clinic will run from 9am-2pm, Monday-Friday, at the cost of $500 for the week.
Campers are asked to bring bag lunches each day that do not contain nut or seed products and do not include glass containers.
Camp Season Program Description
Summers at LREI's Basketball Intensive is an opportunity for players, ages 10 to 13 to learn the concepts of basketball, develop their basketball skills, and compete. Clinics focus on helping athletes improve their dribbling, shooting and passing skills by participating in intensive drill sequences that focus on developing these fundamentals. Time is spent on skill building for each individual player as well as teamwork both offensively and defensively. Lunch is provided each day for campers during the camp season.
Training will include:
– Shooting
– Passing
– Dribbling and Ball Handling
– Rebounding
– Hand/Eye Coordination
– Defense and Agility
– Athletic Stamina
– Footwork
– Teamwork
– Strategy
Secrett Stubblefield joins Summers at LREI in her first year as Head Basketball Coach and Basketball Program Coordinator of the Basketball Intensive Specialty Camp.  She brings a wealth of experience in basketball, education, and leadership as she is also the Assistant Women's Basketball Coach at Hunter College, Head Girls Varsity Basketball Coach at Avenues: The World School, and founder of her own basketball training company, City Outworks.
Coach Secrett is a well-known and respected AAU boys coach and basketball trainer in NYC. In her 6 years as Head Basketball Coach and Player Development Manager at Asphalt Green (NYC), she built the AAU program from scratch, won or placed in nationally recognized tournaments, and trained some of the top high school boys in the city.  Prior to Asphalt Green, she served as the Head Women's Basketball Coach at Southwestern Community College (Creston, Iowa), and Assistant Women's Basketball Coach at Central Methodist University (Fayette, MO).
As a first year coach, Secrett was named Virginia's Region III Coach of the Year at Waynesboro High School (Waynesboro, VA).  She led her Girls' Varsity Basketball team to the State Championship game for the first time in 17 years.  After finishing with a 26-4 record (State Runner-Up) as a rookie coach, she knew coaching was her calling, and passion.
Coach Stubblefield played professionally in Poland and Austria prior to starting her coaching career.  She also attended St. John's University (Jamaica, NY) & Northwest Florida State College (formerly Okaloosa-Walton CC, in Niceville,FL) on full basketball scholarships.
Secrett has a Master of Education (Central Methodist University) and Bachelor of Science in Communications (St. John's University).
 Daily Schedule: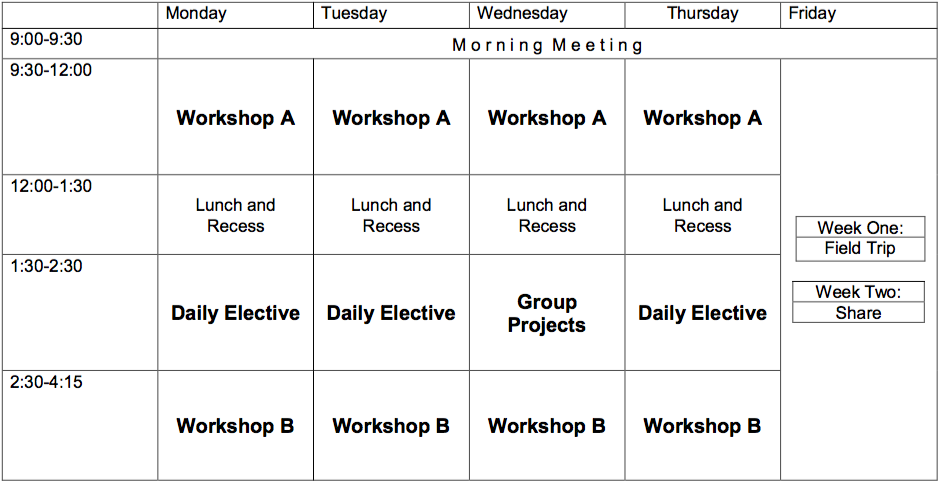 2019 Field Trip and Share Schedule (TBA):
2018 EXAMPLES
Session One:
June 29th: Aviator Sports
July 6th: Share at Camp
Session Two:
July 13th: Improv-4-Kids
July 20th: Share at Camp
Session Three:
July 27th: Victorian Gardens
August 1st: Block Party
August 3rd: Share at Camp