Photography and Portfolio Development.
Photography is offered 1st Session to students aged 10-13.
Photography
with Susan Now
Students will learn how to create their own pinhole cameras from boxes and tins. They will make photos with the cameras created in class. They will learn how to work in the darkroom to convert these images into positives. We will also use digital photography to explore the neighborhood and to work on making rather than taking images. Students learn how to take better photographs and exposures and how to create visually compelling images with pinhole, digital and traditional film cameras.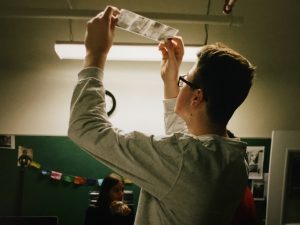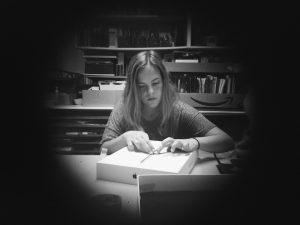 Portfolio Development is offered 2nd Session to students aged 10-13.
Portfolio Development
with Matt Mahler
This course will give young artists a jump start on developing a personalized portfolio of art works. Artists will explore techniques that are age appropriate in various drawing, painting and sculptural materials all the while building confidence and unlocking their own artistic voice. Young artists can expect to create up to 5 finished artworks to add to their portfolio. Using art historical references, campers will brainstorm and create projects that are personal to them and receive the support necessary in realizing their completion. Along with creating strong, personalized, portfolio-worthy pieces, campers can be expected to participate in the critique process and familiarize themselves with appropriate vocabulary that will help them better articulate their vision.
Art Studio students also take a Daily Elective Class. The class options are a rotating selection of activities, allowing campers to make decisions based on their desires each day.  There is no need to register for Daily Elective Classes.
2017 Daily Schedule: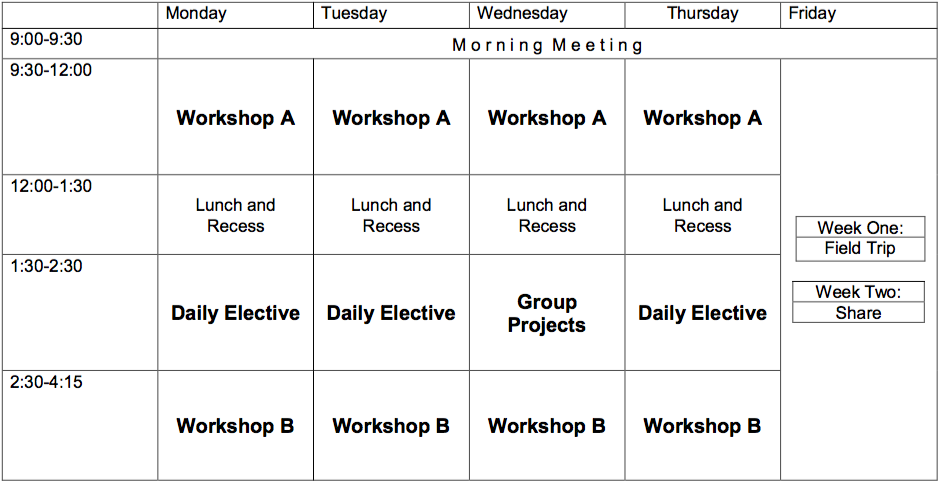 ---
Teacher Bios:
Susan Now, LREI's High School Photography, instructs all levels of darkroom and digital photography. Her specialties include Photoshop, Alternative Processes and bookmaking. She introduces students to photography through constructing pinhole cameras. Prior to teaching at LREI she was an adjunct professor at The New School, NYU, The School of Visual Art and the International Center of Photography. She received her MFA in Photography and Related Media from the School of Visual Arts.
Matthew Mahler is an a visual artist based in Queens, New York. He holds a B.S. in art education from Hofstra University and an M.F.A. in Painting from CUNY Queens College. Matt is the co-founder of Small Black Door, an experimental art space located in Ridgewood, New York.  Matthew has been an Art Specialist for Summers at LREI for over five camp seasons and has worked as an Afterschool Enrichment teacher during the school year.
Candice Groenke is an award winning furniture maker and a graduate of the College of Redwoods Fine Furniture. She was on faculty at the Village Community School for a few years as the Woodworking Teacher. During the past year, she has served as a Specialist at Summers at LREI as well as an Afterschool Teacher during the school year. She continues to hone her craft as a woodworker and furniture designer in her studio in Brooklyn.
---
Location
Art Studio Classes take place at 40 Charlton Street in the newly-renovated Arts Pavilion.  Students will work in several brand new state-of-the-art studios, complete with ample natural light, balcony space, sweeping views, kiln, and large work stations.
Times
Art Studio meets Monday-Friday 9:00am-4:15pm.  A hot lunch is provided Monday-Thursday; we ask that campers bring a bag lunch on Fridays.
2017 Field Trip and Friday Share Schedule:
Artists will make chaperoned off-site trips as dictated by the needs of their individual and group projects.
Additionally, on the first Friday of each session, students will join Upper Camp on a Field Trip via air-conditioned coach buses:
Session One: Photography
June 30th: Hudson Play
July 7th: Share at Camp
Session Two: Art Portfolio
July 14th: Aviator Sports
July 21st: Share at Camp
Session Three: Furniture Designers
July 28th: Victorian Gardens
August 2nd: Block Party
August 4th: Share at Camp