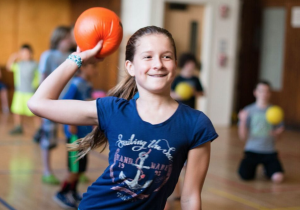 Tens through Twelves take Choice Classes together that meet Mondays, Tuesdays and Thursdays for one hour.

2018 Choice Classes Examples (2019 TBA)
Session 2
Block A: 9:30-10:30
Capture the Flag (Woobens Celony) Come play capture the flag, as well as other team games! We will start with the original game, and then come up with our own variations of the classic game using our creativity and teamwork.
Honey! I Shrunk the Campers! (Cody Rae Knue) Giant slices of pizzas! Camper-sized forks! In this fun choice class, campers will make larger than life-size fantastical sculptures of everyday objects. We'll play with ideas of scale, transformation, and create humorous stories connected to our artwork. Campers will learn to build the inner skeletons of their sculptures, and problem solve ways to mold and shape their works. We'll then use papier-mâché and paint to bring our sculptures to life. We'll finish by installing our artwork around camp and sharing our wacky stories.
Quidditch (James Miner) Welcome to the fantastical game of Quidditch, founded by The Hogwarts School of Witchcraft and Wizardry. Players will be organized into houses (or teams), and work together to set up the playing field and positions. All players will get the opportunity to be Chasers, Bludgers, Seekers, and the ever-elusive Snitch! The beginning of class will cover the rules of Quidditch and give players time to warm up and hone their skills. Bring your teamwork, strategy, sportsmanship, and imagination!
Block B: 1:30-2:30
Daily Elective (TBA) Daily Elective is an hour-long workshop where Tens-Twelves and Specialty Camp campers choose from three rotating activity options. The activities are offered at our 40 Charlton Street campus, and change each day to include a Performing Arts, Visual Arts, and Sports/Games choice.
Block C: 2:30-3:30
Basketball Skills (Henry Rice) Master the craft of basketball in this beginner basketball skills class. Campers will play warm-up games, practice drills and even play full games. Kids will have the opportunity to enhance skills in coordination and teamwork, as well as getting exercise. Having fun and getting better at fundamentals will be the primary goals, with winning taking a backseat.
Tinier Worlds (Clara Campos) We will create very tiny worlds using our imaginations and skills, as well as a bunch of interesting materials. If you are into dioramas, solving problems creatively, and working small, this is the class for you! Projects will include VERY small homes (faeries, gnomes, insects etc.), tiny work spaces  (studios, offices, stations, etc.), and tiny figures/creatures to inhabit your worlds. Materials will include boxes, jars, wood, sculpty, cork, string, twine, moss, buttons, tin foil, glass beads, and many more little tiny things!
Gaga (Woobens Celony) The classic camp game is back! For those who don't know, Gaga is a version of dodgeball that promotes friendly competition in a safe form, while still giving campers an opportunity to run around and use their bodies. Don't let the ball hit your feet, or you are out! Gaga players use all of their intellect, speed and skills. Are you up for the challenge?
Point and Paint (Zoe Lintzeris) Campers will explore the art movement of Pointillism by drawing out their own imaginative landscapes and filling in shapes with the pointillism technique. This interactive art history class will allow campers to appreciate the details, but also to zoom out and "examine the bigger picture", fostering patience and focus.