All Sports Clinics will run from 9am-2pm, Monday-Friday, at the cost of $500 for the week or $125 per day. Programs will take place at 145 Thompson Street.
Campers are asked to bring bag lunches each day that do not contain nut or seed products and do not include glass containers.
Basketball Clinic Program Description
Summers at LREI offers a one-week Basketball Clinic. This program helps players, ages 10 to 13 to develop their basketball skills, and compete against each other in games.
Training will include:
Shooting
Passing
Dribbling and Ball Handling
Rebounding
Hand/Eye Coordination
Defense and Agility
Athletic Stamina
Footwork
Teamwork
Strategy
Register for the clinic basketball here.
Soccer Clinic
Summers at LREI offers a one-week Soccer clinic. This program is a week long training camp that works on individual player skills and game scenarios in a fun and competitive environment.  Through a combination of drills, challenges and games players will be encouraged to be creative and take risks with new skills to help them grow technically and to develop a personal style as a unique player.  There will be a focus on growing all aspects of one's game and being a well-rounded soccer player, and participants will be given techniques and strategies to continue to improve on their own as much as they are motivated to. While athletes will play on a local soccer field, drop off and pick up will occur at 145 Thompson Street.
Some areas of focus:
First touch & ball control
Passing & seeing options in-game
Agility & athletic stability
Register for the soccer clinic here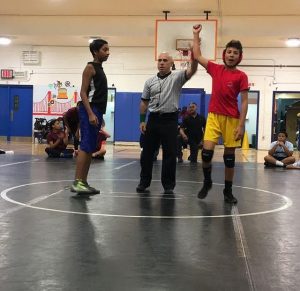 Wrestling Clinic
Summers at LREI's offers a one-week Wrestling clinic. The wrestling clinic is an opportunity for athletes, ages 10 to 13, to learn the basic concepts of wrestling, develop and enhance their wrestling skills, and compete. The program will focus on helping wrestlers learn takedowns, escapes, top control and tumbling while developing overall fitness, agility and athleticism.
Areas of focus will include:
– Grappling
– Defensive Wrestling
– Chain Wrestling
– Finishing moves
– Athletic Stamina
– Strategy
Register for the wrestling clinic here.