Session 2 : July 10th-July 21st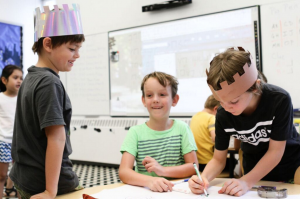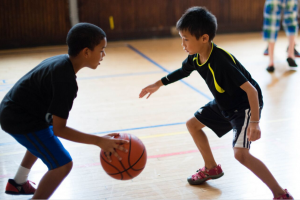 Sevens and Sixes take Choice Classes on Mondays, Tuesdays and Thursdays for an hour per class.
2017 Choice Classes
Block A: 10:30-11:30
Mad Scientists (Calla Kennedy) We will conduct an array of experiments ranging from edible ice-cream making, to explosions of coca-cola and a secret ingredient! We will have fun getting our hands dirty and watching as our experiments unfold in front of our eyes. Students will also come away with instruction on how to reenact experiments at home!
Basketball (Woobens Celony) Meet us on the court, where we will learn basketball skills like passing, shooting and dribbling. After practicing the basics, we will try out some game play, while developing good sportsmanship and teamwork strategies. We will also make time for fun basketball games like Knock Out, Horse and others!
Karate (Vinnie Barille) An introduction to the basic moves and ideas of karate. Activities will focus on building strength, flexibility, coordination, and spatial awareness.
Art in Action (Naomi Clark) In this action-packed art class we will use anything but a paintbrush to create our masterpieces. We will work together to splatter, drip, roll and stamp our canvases creating works both large and small.
Life Size Robots (Mollie Flannery) Create your own life-size robot using found and recycled materials! Campers will construct their robots from an assortment of boxes, cylinders, and molded plastic, then decorate them with colorful buttons, switches and levers. Over the course of the two weeks, each robot will develop its own distinct personality! At the end of camp, campers will showcase their robots in a share with other kids.
Witches and Wizards! (Cody Rae Knue) Double, double, toil and trouble! In this class we'll tap into our special powers to make our very own bubble wands and spells to go along. Don't forget your cauldron – we'll need them for our fizzy potions and Witches' Brew paintings we'll create together. We'll even make photographs called sun-prints using sunlight and magical paper. And of course, we'll create a magical hat since a wizard and witch are incomplete without them!
Frisbee Games (Dylan Smock) Campers will first learn the basics of throwing and catching a frisbee. Then, campers will use those skills to play different frisbee games such as Frisbee Golf, Frisbee Tic-Tac-Toe, Frisbee Bowling, and more. Campers will get active, learn the benefits of teamwork, and most of all have fun!
Block B: 1:30-2:30
Claytopia (Chloe Smock) Using clay, a few tools and our hands, we will design and make bowls, cups, and other creative knick-knacks. We will incorporate different colors and introduce different clay materials to bend, contort and play with the mushy madness of our imaginations!
Under the Big Top (Christina Riffle) Step right up as we train to be circus performers in the greatest show on earth! Combining imaginative play with skillbuilding exercises, campers will learn to tightrope walk and tumble like acrobats, jump through hoops like lions, and perform silly tricks like clowns!
Forget the Paintbrush! (Cody Rae Knue) Have you ever thought, "Why do I need a brush when I can use this bubble wrap or my FEET!?"  In this class, we'll explore how to make paintings using unusual and wacky items. We'll test out the kinds of textures, shapes, and marks that are made when we use different types of tools such as potatoes, spray bottles, combs, and more! Campers will combine and build their own "brushes" to create their personal and collaborative paintings.
Basketball Bonanza (TBA) Meet us on the court, where we will learn basketball skills like passing, shooting and dribbling. After practicing the basics, we will try out some game play, while developing good sportsmanship and teamwork strategies. We will also make time for fun basketball games like Knock Out, Horse and others!
Soccer (TBA) Do you love soccer? Do you want to learn the basics of how the game works? In this soccer class we will review basic skills, such as trapping, dribbling, passing and kicking in addition to playing fun, unique lead up games. Get ready to run, get ready to play, and get ready to have fun!
Rainbow Treats (Alyssa Keene) Edible rainbows? Yes please! We will use colorful whole foods, such as fruits and vegetables, to make edible works of art to enjoy and share. By following recipes and creating a few of our own, we will bring more color to our tables and tummies. Campers will practice collaboration, kitchen safety, science, and healthy eating habits.
Adventure Playground! (TBA) Jump, run, and play as we explore a different neighborhood playground for each class.
Block C: 2:30-3:30
Basketball Basics (Denzel Johnson) Players will practice the fundamentals of passing, dribbling, shooting, and footwork. We will take time to learn proper technique, develop muscle memory, and work together as a team. And of course, we'll have lots of fun trying out our skills on the court!
Yoga Games (Janine Bickoff) Yoga, breathing, creative play, and games help campers learn confidence and have fun!  Let's play dance party yoga, freeze dance yoga, yogi says, mirroring games and have a yoga adventure to outer space! Class will end in savasana.
Lil' Botanists (Cody Rae Knue) Let's explore the world of plants and nature together! We'll take nature walks to our local parks to sketch in our homemade field notebooks, recording the plants we find. We'll also make textured rubbings and plant based movable sculptures. We'll roll up our sleeves and get dirty as we plant our own little garden in pots we created and designed ourselves. Each day, as we watch our garden grow, we'll make observations and share our findings with one another.  We'll also use our notes and sketches to create a collaborative mural to hang up at camp!
Dance through the Decades (Lara G Mahler) Let's do The Bop, the Mashed Potato, Hustle, Moonwalk, Roger Rabbit and the Cha-Cha-Slide. Let's hop into a time machine and learn dances from past decades and create dances for the future. We will create our very own individual and group dance moves, and share them with our friends at camp dance parties!
Young Jedis (Candice Groenke) Campers will use The Force to create a variety of battleships from the Star Wars series. The young Jedis will have different wooden materials, shapes and attachments to choose from when constructing Tie Fighters, X-Wings, Star Destroyers and of course, the mighty Millennium Falcon, to name a few. Campers will practice their problem solving skills during their construction and be able to paint and embellish their space crafts how they see fit.
Ya Build It, Ya Break It (Henry Rice) Campers will have the opportunity to participate in a unique experience: each project we make will be able to be destroyed and taken apart. Campers will be given a safe and free space to enjoy the visceral experience of destroying something they created. By destroying each piece, campers will free themselves the confines of focusing on the finished project. It is not required that campers destroy every piece they make, but it will certainly be encouraged! Campers will be exposed to exploration in creativity and freedom in their art.
Will it Fly? (TBA) We will design paper airplanes, parachutes, kites, use balloons and bubbles…! Each class will be dedicated to creating a unique flying contraption out of various, lightweight materials and then test run them both inside and outside.