Session 3 : July 24th-August 4th
Sevens and Sixes take Choice Classes on Mondays, Tuesdays and Thursdays for an hour per class.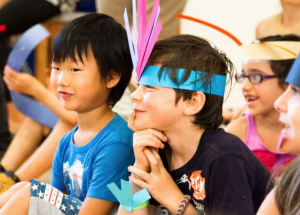 2017 Choice Classes
Block A: 10:30-11:30
Basketball (Woobens Celony) Meet us on the court, where we will learn basketball skills like passing, shooting and dribbling. After practicing the basics, we will try out some game play, while developing good sportsmanship and teamwork strategies. We will also make time for fun basketball games like Knock Out, Horse and others!
Under the Big Top (Christina Riffle) Step right up as we train to be circus performers in the greatest show on earth! Combining imaginative play with skill-building exercises, campers will learn to tightrope walk and tumble like acrobats, jump through hoops like lions, and perform silly tricks like clowns!
Intro to Lacrosse (Matt Mahler) Known as the "fastest game on two feet", Lacrosse is an exciting team sport played between two teams using a small rubber ball and a long-handled stick called a crosse or lacrosse stick. In this intro class, players will learn the basic skills and rules including throwing, catching, scooping and shooting before playing actual games against each other. Open to beginners, come see why this game is quickly becoming a camp favorite.
Totally Tie-Dye! (Dylan Smock) Campers will design and create various tie-dye items as well as use food dye to create a variety of different hands-on art pieces.
Life Size Robots (Mollie Flannery) Create your own life-size robot using found and recycled materials! Campers will construct their robots from an assortment of boxes, cylinders, and molded plastic, then decorate them with colorful buttons, switches and levers. Over the course of the two weeks, each robot will develop its own distinct personality! At the end of camp, campers will showcase their robots in a share with other kids.
Forget the Paintbrush! (Cody Rae Knue) Have you ever thought, "Why do I need a brush when I can use this bubble wrap or my FEET!?"  In this class, we'll explore how to make paintings using unusual and wacky items. We'll test out the kinds of textures, shapes, and marks that are made when we use different types of tools such as potatoes, spray bottles, combs, and more! Campers will combine and build their own "brushes" to create their personal and collaborative paintings.
A Minute to Win it (Norah Turnham Roderick) Every day we'll split up into teams – sometimes as individuals, partners, or larger groups – to challenge each other to complete a wacky task within a minute! Counselors will provide some challenges but you'll have a chance to create your own challenges too. Examples might include: Cookie Face, Paper Clip Races, Penny Stacker, Bounce Off, and more!
Block B: 1:30-2:30
Paint Party (Chloe Smock) In this class we will work with watercolors and acrylic paints to create masterpieces to be brought home and shared, as well as create collaborative painting projects with our peers. We will work with other campers to make large scale paintings and paint collages that we can hang around camp, and explore all the ways you can play with paint!
Build It! (Matt Mahler) Have you ever wanted to build a robot out of cardboard and tin foil? A building out of toothpicks? Your own arcade game out of recycled materials? In this construction/art class we will work with cardboard, paper, wire, clay, string, papier mache, paper clips, rubber bands, paper plates, toothpicks and more to see what kinds of structures we can invent and build. If you can think it, you can build it!
Cardboard City (Clara Campos) In this construction/art class we will work both independently and together to build a cardboard city! Each camper will design and make their own block(s), and then we will connect them all to create our own cardboard city. Builders will be able to disconnect their blocks to bring home at the end of the session.
Danceketball (Adrian Jevicki) What happens when you mix dance with basketball? Danceketball! Danceketball is a class where we will mash-up classic ball games with creative, imaginative movement and music to create original experiences of ballgame dance party madness. This is a class for campers who love to move, play, and invent new ways of doing so.
Let's Bead! (Alex Checkman) In Let's Bead, campers will practice and develop their fine motor skills by creating necklaces, bracelets, rings, and more. We will use ready made beads of all shapes, sizes, and materials, and also work with clay to make our own beads.
Gaga  (TBA) The classic camp game is back! For those who don't know, Gaga is a version of dodgeball that promotes friendly competition in a safe form, while still giving campers an opportunity to run around and use their bodies. Don't let the ball hit your feet, or you are out! Gaga players use all of their intellect, speed and skills. Are you up for the challenge?
Adventure Playground! (TBA) Jump, run, and play as we explore a different neighborhood playground for each class.
Block C: 2:30-3:30
Scavenger Hunt (Samson Baker) Put your detective hat on and get your magnifying lens ready! Each class we will crack the codes and solve the mysteries that abound at camp. No case will go unsolved! Who is up for the challenge?
Karaoke Party (Tara McLaughlin) If you like to sing along to your favorite songs and unleash your hidden music star, Karaoke Party is the choice for you. Through the exploration of music, singing and performing, campers will make a list of their favorite songs and perform them with a real microphone to an audience of friends. We will dress up and use props too! Our main goal is to have fun and create a safe space where campers feel comfortable expressing themselves through music. Additional projects during the session will include a group effort to create new lyrics to our favorite songs. The final class will be an open invitation to other campers to join our Karaoke experience!
Young Yogis (Janine Bickoff) In this lively yoga class, young yogis will start with sun salutations and get into a deeper practice with partner poses and inversions like L dog and flipping dog. We will play fun yoga games and breathe through deeper poses like side plank and lizard pose, ending each class in a restful savasana.
Rebuild. Reboot. Robots! (Cody Rae Knue) Let's get building! We'll activate our engineering skills to transform cardboard boxes and other recyclables into life-size robots. Together we'll problem solve ways of building our new friends as big as us. We'll incorporate foil, different shaped cardboard, and paint to decorate and bring them to life.
Dance through the Decades (Lara G Mahler) Let's do The Bop, the Mashed Potato, Hustle, Moonwalk, Roger Rabbit and the Cha-Cha-Slide. Let's hop into a time machine and learn dances from past decades and create dances for the future. We will create our very own individual and group dance moves, and share them with our friends at camp dance parties!
Floor Hockey (Jake Tiner) Campers will learn about the coolest sport on Earth: hockey! Campers will learn the basics of stick handling, passing and shooting. Then we will engage in fun, low stakes scrimmages, in a fun and friendly atmosphere where teamwork and good sportsmanship are emphasized.
Making Mosaics (TBA) Campers will create mosaic art pieces using various materials such as tissue paper, buttons, sand, feathers, gems and magazines.