Musical Theater Workshop is offered in two-week intensive sessions:
Session 1: June 25-July 6  9-13 year olds Musical TBA.
Session 2: July 9-July 20 9-13 year olds Musical TBA.
Session 3: July 23-August 3 9-13 year olds Musical TBA.
Note that the sessions of this workshop are independent, and will focus on staging different shows.  Children are welcome to register for one or more sessions.
Musical Theater Workshop
Children ages 9-13 may sign up for our traditional workshop at the Charlton Street Performing Art Center. The activities in this workshop are exclusively geared toward fully staging a musical each session.  This workshop is for children who get a thrill out of singing, dancing, and devising stage characters, and want to focus on learning more about these essential musical theater skills. Each session, students put on an abridged version of a well-known musical.  Past productions include: "Oliver," "Honk," "Annie," and "Once Upon a Mattress".   In each session, campers are cast on the first day and rehearsals begin in full swing on the next. A full blown production is created in just nine days. In addition to learning lines, lyrics, and dance steps, the group works together as a true ensemble, warming up each day with theater games.  Each actor is also involved with making props and the set. The highlight of the camp – the performance – takes place on the final Friday of each session, followed by clean-up and celebration.  It is strongly recommended that campers are present for all days of their registered session(s).
Times and Location
Musical Theater Workshop meet Monday-Friday from 9:00am-4:15pm at the Summers at LREI 40 Charlton Street Campus. Performers will rehearse in several newly-renovated movement and voice studios.  Performances take place on the large state-of-the-art stage with dynamic lighting and live, professional piano accompaniment.
Musical Theater Workshop Performances:
Session 1: Friday, July 6, afternoon time TBA
Session 2: Friday, July 20, afternoon time TBA
Session 3: Friday, August 3, afternoon time TBA
A hot lunch is provided Monday-Thursday; we ask that campers bring a bag lunch on Fridays.
2018 Daily Schedule: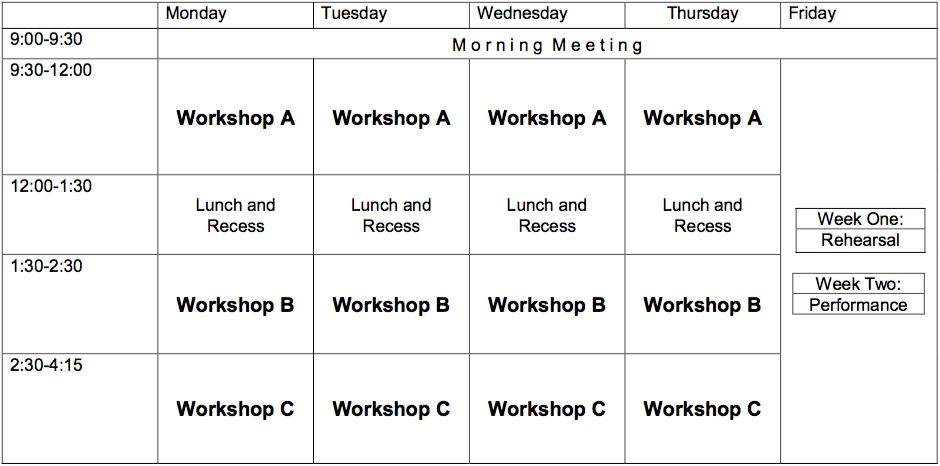 Performance Schedule 20
2018 Performance Schedule:
Session One:
July 6: Performance at Camp
Session Two:
July 20: Performance at Camp
Session Three:
August 1: Block Party
August 3: Performance at Camp